Our Programs
Embrace Alabama Kids Helps Prepare Children for School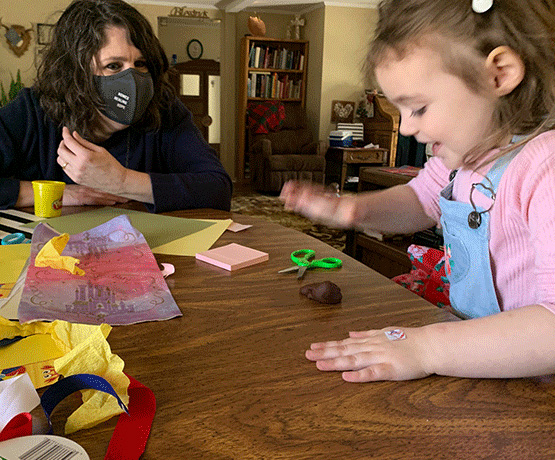 As a grandmother raising her granddaughter, Linda has some of the same worries many parents do. She wants her granddaughter to be healthy and happy. She prays she and her husband are meeting the child's emotional needs, and she hopes her granddaughter will always know she's loved.
One thing Linda doesn't have to worry about is whether 4-year-old Madison will be ready to start kindergarten. Thanks to the Parents as Teachers program, a national initiative offered in Covington County by Embrace Alabama Kids, Madison is on track to thrive once she starts school. "This program has been such a blessing," Linda said. "We're doing everything we can to get her off to a good start so that she will be successful."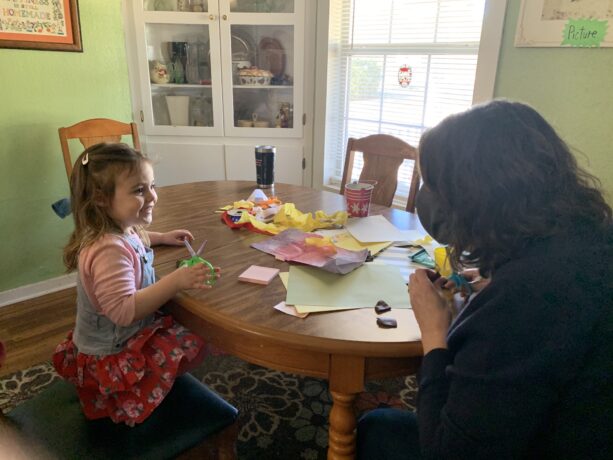 Preparing children for school is one of the most important things parents or caregivers can do, according to Laura Wilkinson, Parent Educator with Embrace Alabama Kids.  For many, that means helping children write their names, count to 20, and recognize shapes. They likely don't give much thought, however, to helping them develop the muscles and pincer grasp necessary to hold a pencil.
"Unless you're a child development major, you don't know this stuff," Wilkinson said.
"The parent is going to be the child's first and most influential teacher, and we want to show them fun ways they can help their children reach their full potential."
The program is open to families in Covington County with babies, toddlers, and preschoolers, if someone in the family receives Medicaid benefits.  The focus is on four areas of development: cognitive, language, social and emotional, and motor.
In addition to introducing fun and easy activities, Wilkinson provides valuable information about child development, tips for helping children learn new skills, and explanations about why certain activities are important at each stage of development. "It may explain that at this age, this part of the child's brain is developing, and this particular activity helps with that," Wilkinson said. "Once you know that, you want to do it again and again."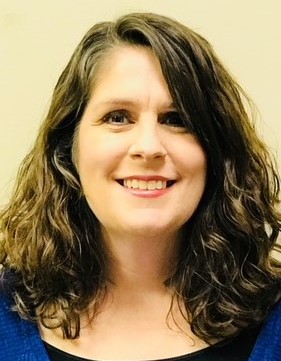 Madison can't wait for Wilkinson's visits. "She is always curious to see what Ms. Laura's bag of surprises holds each week," Linda said.
"While she is having fun, she is learning, and I am also seeing how to make learning stick and how to make it fun and interesting."
Madison recently used kitchen tongs to pick up cotton balls, which helped develop the fine motor coordination necessary for writing. "I like that the activities use what we have around the house. We don't have to go out and buy special tools," Linda said.
Reading is an important component. Wilkinson helps each family sign up for Dolly Parton's Imagination Library, which provides free books each month for children ages birth to 5. She often gives additional books to the children she works with, as well as their older brothers and sisters. "At every visit, either I read a book to the child or the parent reads a book to the child. The goal is for someone in the house to read to the child every day."
Madison isn't the only one who has benefited from the program. Linda said Wilkinson has provided important parenting tips. "We relearned that boundaries need to be set and need to be firm," she said. "Establishing a bedtime schedule and being consistent was something we were lax about, but this wasn't good for her or us. She functioned better when she went to bed at a reasonable time and we were able to have a little down time."
Linda said she is grateful for the support Wilkinson has provided. "We have learned how to handle challenges that come up with each age," she said.
"I quickly came to see Laura as my ally. How fortunate we are that this program exists."
Editor's note: The child's name, Madison, is used in this article in place of her actual name to protect her privacy.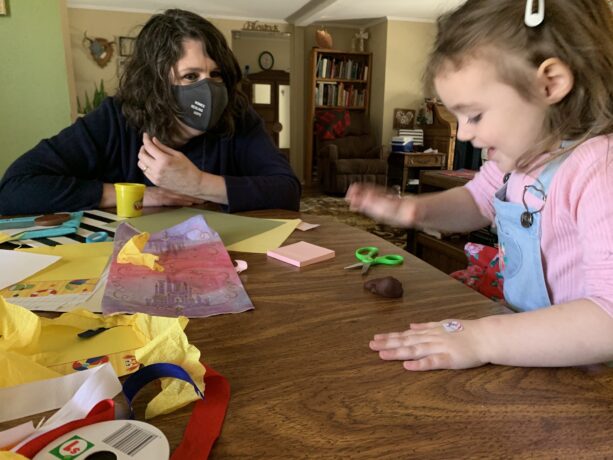 Expanding Parents as Teachers in Alabama
Embrace Alabama Kids has expanded Parents as Teachers (PAT) curriculum to Mobile and Dothan. Ministry staff were already serving vulnerable children and families in these areas and PAT, paired with other parenting curriculum, is a natural fit for the existing programs in both locations.
In Mobile, a Parent Educator was added to the Babies First staff in September prior to curriculum being implemented in October. The Parent Education Program in Mobile was made possible by funding through the Alabama Dept. of Child Abuse and Neglect Prevention and The Children's Trust Fund. 
In the Dothan area, ministry staff are also poised to expand this much needed program, serving children and families in need in Houston, Henry, Dale, Barbour and Geneva counties. Expansion of parent education in the Dothan area, made possible by the Daniel Foundation, will equip more children and families with school readiness and positive parenting.