Pat Cone has never been in the care of Embrace Alabama Kids, but the 130-year-old ministry has had a profound effect on her life. In fact, she wouldn't be here without it. "I'm a product of Embrace Alabama Kids in Selma," she said. "My mother, father and uncle grew up there, and it's where my parents met."
It's also where Mary Frances Holland, Cone's 94-year-old mother, felt safe and learned lessons and skills that would carry her through her adult years. "It helped shape my life," she said.
The story began in 1934 when Holland's father died in an accident. With three of six children still at home, her mother struggled financially. She eventually remarried, but her new husband was an alcoholic and things got worse. "It was a bad situation," Mrs. Holland remembers. "Every time the rent came due we moved. We missed a lot of school and the welfare people came out and put us in foster care."
Released to the care of relatives, 10-yearold Mary Frances Talton was taken to Embrace Alabama Kids's Selma campus by her grandfather and uncle. Her younger brother, Julius, joined her about a year later. "I was happy to have a stable situation," she said. "I don't know if I would have survived what I was in."
The Selma campus, which served children for 100 years, had a swimming pool, 10 cottages, as well as tennis and basketball courts. There was a nearby farm, and the children helped care for the animals and tend and harvest the garden to keep food expenses down.
"We all had chores, and I helped in the kitchen and laundry," said Mrs. Holland, who now lives with her daughter in Prattville. "We went to the public school and we went to church in town. On Saturday mornings, we went to the movies. I had a happy childhood."
Many of her memories involve John Moore, who came to Embrace Alabama Kids after his father abandoned the family and his mother was hospitalized with mental illness. "They had very strict rules about dating," Mrs. Holland said. "We could go to the picture show when everyone else went to the picture show. We would see each other on campus and at the swimming pool. Sometimes we'd sit on the same bench and hold hands."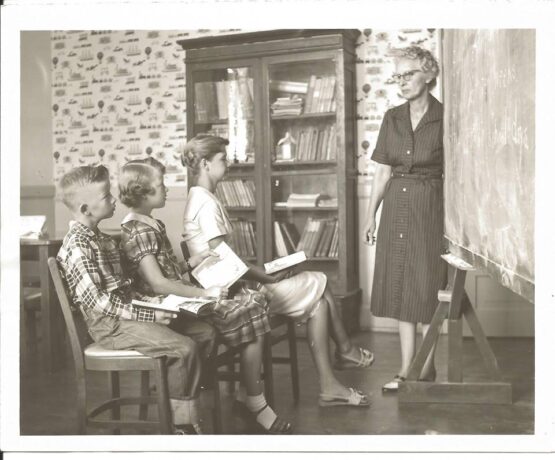 John, who was a few years older, eventually joined the Navy, and she stayed at Embrace Alabama Kids until graduating from high school. "I was the first one of my siblings to finish school," she said. "I got a lot of other meaningful education there, too. I learned to make biscuits and I became a very good cook. I got my religious education, and every Sunday after lunch, the superintendent would put on classical music. To this day, I find classical music most entertaining."
After graduation, Mary Frances kept the books for a children's clothing store, served as a typist and "did a little bit of everything." She and John married in 1945, and the Assistant Director of Embrace Alabama Kids, who had been close to Mary Frances, served as the witness. "She played an important part in my life," said Mrs. Holland, who was 19 at the time.
Sadly, Mary Frances became the sole support of the family after John eventually developed mental illness and hospitalized himself. While raising two children, she took college-level accounting classes and worked at a construction company for 16 years before becoming an auditor with the State of Alabama, where she worked until her retirement.
Although she's had a lot of heartbreak – she buried her second husband as well as her son – Mrs. Holland said the foundation she got at Embrace Alabama Kids helped carry her through the hard times. "I was blessed to be able to do so many things because of the training I got there," she said. "It gave me my start in life and helped me recognize that there were people who cared."
Cone said her mother has been an inspiration. "She has never said an unkind word about anything that happened to her, and she was always all about the family," Cone said. "My mother is one of the most remarkable people I've ever known."